New! Oversized Infinity Scarf, Hooded Scarf Chunky Cowl now available!
We've been busy with our 2SistersHandmade.com Shop!
There are lots of new & exciting designs listed. One that will definitely keep the cold at bay is the Oversized Infinity Scarf at about 40 inches circumference & 15 inches wide.
NOTE: This Scarf Has to Be Special Order or Custom Order —
[click here] then click on "Custom Order Button"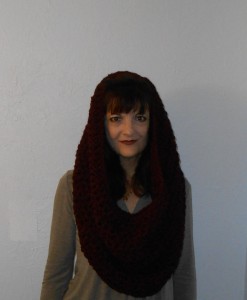 The one in the pic above is Burgandy. We also have it in Black, Cream, Rust / Burnt Orange, Bright Blue
Oversized Infinity Scarf Cowl Hood [Click Here]
To see all the colors available.
There is really only one place to find oversized infinity scarfs like the one posted above. That is on Etsy.com — I have yet to see these types of infinity scarf hoods on any shopping sites like Amazon or other "designer" shops.
Come by our Facebook Page for newest listings & announcements: 2Sisters Handmade on Facebook